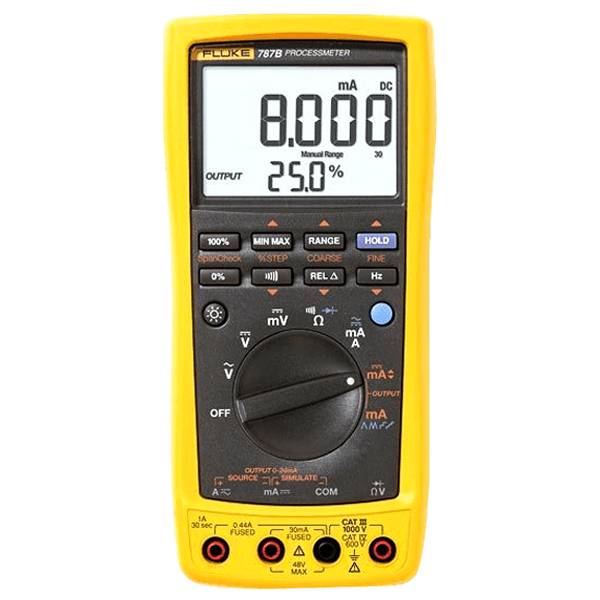 Calibration
Fluke 787B ProcessMeter
Iconic Engineering Limited
Fluke 787B ProcessMeter the brand new & reliable Fluke ma-loop-calibrators. We Offer the Best and trusted Fluke calibrators at lowest price. Keep it from Tools....
Model: Fluke 787B ProcessMeter the problem solution product for you!!
The Fluke 787B ProcessMeter has some great features. This meter easily can measure Frequency to 20 kHz. Not only the Frequency but also this meter has the externally accessible battery for easy battery changes.
The Compact, rugged & reliable ProcessMeter easily can measure V dc, V ac (true-RMS), mA dc, Resistance, Diode test, Continuity, Temperature coefficient, Vibration & many more.
Iconic Engineering the trusted supplier to provide the best test & measurement tools of Fluke in Bangladesh. We also ensure that the support after-sales. Keep it and get the best product that you are looking for. Buy now from Tools Bangladesh.
Key features: Fluke 787B ProcessMeter
20 mA dc current source/measure/simulate
Simultaneous mA and % of scale readout
DMM designed to meet 1000 volt IEC 61010 CAT III and 600 V CAT IV standards
Fluke Connect® compatibility for wireless data logging (with IR3000FC module*)
Precision 1000 V, 440 mA true-rms digital multimeter
Frequency measurement to 20 kHz
Min/Max/Average/Hold/Relative modes
Diode test and continuity beeper
Manual step (100%, 25%, Coarse, Fine) plus Auto Step and Auto Ramp
Externally accessible battery for easy battery changes
Specifications: Fluke 787B ProcessMeter™
Measurement function
Range and resolution
Best accuracy (% of reading + LSD)
V dc
400.0 mV, 4.000 V, 40.00 V, 400.0 V, 1000 V
0.1% + 1
V ac (true-rms)
400.0 mV, 4.000 V, 40.00 V, 400.0 V, 1000 V
0.7% + 2
mA dc
30.000 mA
.05% + 2
A dc
1.000 A (0.440 A continuous)
0.2% + 2
A ac
1.000 A (0.440 A continuous)
1% + 2
Resistance
400.0 Ohms, 4.000 k, 40.00 k, 400.0 k, 4.0 M, 40 M
0.2% + 1
Frequency (0.5 Hz to 20 kHz)
199.99 Hz, 1999.9 Hz, 19.999 kHz
.005% + 1
Diode test
2.000 V (shows diode voltage drop)
2% + 1
Continuity
Beeps for resistance < approx. 100 ohms
Output function
Range and resolution
Drive capability
Accuracy (% of span)
DC current output (Internal battery operation)
0.000 to 20.000 mA or 4.000 to 20.000 mA, (selectable at power-up) Over-range to 24.000 mA
24 V compliance or, 1,200 ohms, @ 20 mA
0.05%
DC current simulate (Ext. 15 V to 48 V loop supply)
0.000 to 20.000 mA or 4.000 to 20.000 mA, (selectable at power-up) Over-range to 24.000 mA
1000 ohms, @ 20 mA
0.05%
Current adjustment modes
Manual: Coarse, Fine, 25% and 100% step
Automatic: Slow Ramp, Fast Ramp, 25% step
Temperature range of 18 °C to 28 °C, for one year after calibration
General specifications
Maximum voltage applied between any jack and earth ground
1000 V RMS
Storage temperature
-40 °C to 60 °C
Operating temperature
-20 °C to 55 °C
Temperature coefficient
0.05 x (specified accuracy) per °C (for temperatures < 18 °C or > 28 °C)
Relative humidity
95% up to 30 °C; 75% up to 40 °C; 45% up to 50 °C; 35% up to 55 °C
Vibration
Random, 2 g, 5-500 Hz
Shock
1 meter drop test
Safety
IEC61010-1, Pollution Degree 2/IEC61010-2-033, CAT IV 600 V/CAT III 1000 V
Size (HxWxL)
50 x 100 x 203 mm (1.97 x 3.94 x 8.00 in)
Weight
600 g (1.3 lbs)
Battery
Four AA alkaline batteries
Battery life
140 hours typical (measurement), 10 hours typical (sourcing 12 mA)
Warranty
Three years
Includes: Fluke 787B ProcessMeter
TL71 Premium test lead set
AC72 Alligator clips
Four AA alkaline batteries (installed)
Quick reference guide
Accessories: Fluke 787B ProcessMeter
Related Products