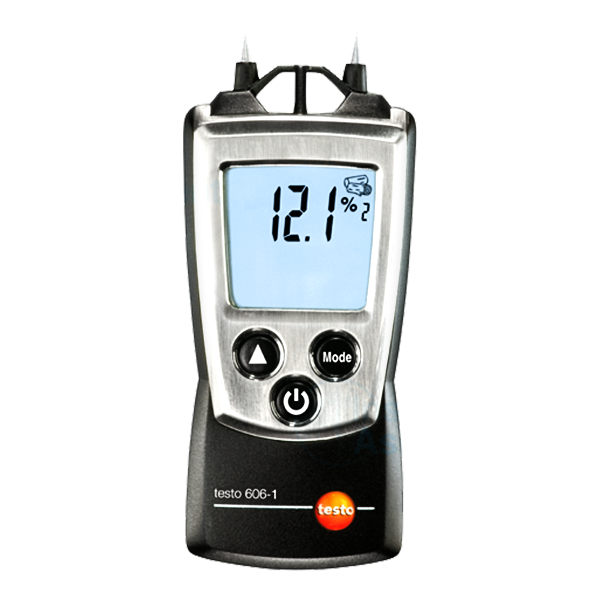 HVAC/Clean Rooms
Testo 606-1 - Moisture meter
Iconic Engineering Limited
Testo 606 1 Moisture meter now available in Bangladesh. Tools Bangladesh offers the lowest price Moisture meter with free delivery !!!
Model: Testo 606 1 Moisture meter
The Testo 606-1 moisture meter can measure different types of wood and building materials. It is easy to use and comes with a wide range of quality features.

The two ram electrodes are pushed firmly into the wood or building material, where they measure the moisture content as a percentage based on the dry mass (dry weight).
There are a hold function and a backlit display, for use in all lighting conditions. A protective cap and belt bag ensure that the meter is stored safely, and a hand strap prevents the meter from being dropped.
Are you looking Testo instrument in Bangladesh? Don't be upset! Tools Bangladesh is the biggest market place in Bangladesh. Find your Test tools here and direct call to Tools Bangladesh support center.
Key Features: Testo 606-1 - Moisture meter
Precise moisture measurements in wood, cement, screed etc.
Characteristic curves for different types of wood
Hold function: freezes the last reading for convenient use
Easy to use; backlit display for use in all lighting conditions
Specifications:
Wood / Building material moisture

Measuring range

8.8 to 54.8 % by weight; beech, spruce, larch, birch, cherry, walnut

7.0 to 47.9 % by weight; oak, pine, maple, ash-tree, douglas fir, meranti

0.9 to 22.1 % by weight; cement screed, concrete

0.0 to 11.0 % by weight; anhydrite screed

0.7 to 8.6 % by weight; cement mortar

0.6 to 9.9 % by weight; lime mortar, plaster

0.1 to 16.5 % by weight; bricks

Material

±1 %

0.1

1 s
General technical data

Dimensions

119 x 46 x 25 mm (incl. protective cap)

Operating temperature

-10 to +50 °C

Protection class

IP20

Battery type

2 AAA micro batteries

Battery life

200 h (average, without display illumination)

Storage temperature

-40 to +70 °C

Weight

90 g (protective cap and batteries included)
Includes:
Testo 606-1 - Moisture meter
Related Products