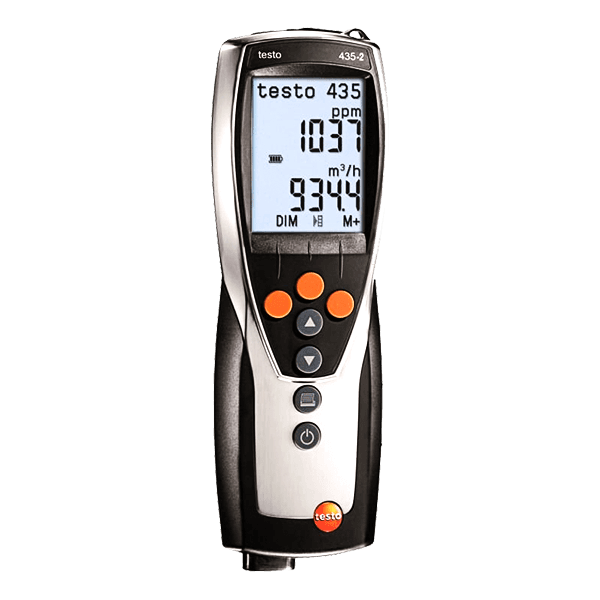 Model: Testo 435-2 - Multifunction meter
The Testo 435-2 multifunction meter allows you to carry out all the necessary measurements in order to check and become an accustomed discussion and let breathe conditioning systems, as skillfully as assess indoor tune air. This multifunction meter accepts a broad variety of probes to urge on the order of in measuring and recording airflow, humidity, temperature, and indoor express feel (IAQ) readings. With the included ComSoft Software, this data can be organized by location, analyzed, and reported.

Probe specific menus and selectable fan profiles ensure that the Testo 435-2 multifunction meter is always ready to use. Easy setup of enthusiast defined IAQ and airflow/duct profiles let for fast measurement of many swap tasks, and taking into account a broad variety of scrutinizing choices comprehensible, the Testo 435-2 is ready to handle a terrible array of HVAC /IAQ applications.
The superb data handling will save your readings organized and ready, whenever you habit them, whether in an immediate printout on the subject of-site or for toting occurring analysis via the ComSoft PC Software, to be placed into a description.
Testo distributor in Dhaka Bangladesh. Tools Bangladesh is the best eCommerce site for electrical instruments in Bangladesh. All kind of product is stored here, and when you need any model of Testo Brand you may contact us.
Features
Key Features: Testo 435-2 - Multifunction meter
Built-in memory stores up to 10,000 measurements
Optional wireless (RF) temperature and humidity probes for remote measurement
Backlit LCD for easy viewing
Optional printer allows for easy documenting of measured data
Specifications
Specifficions: Testo 435-2 - Multifunction meter
Temperature - NTC

Measuring range

-58° to 302 °F / -50 to +150 °C

Accuracy

±0.4 °F (-13° to 166.8 °F) / ±0.2 °C (-25 to +74.9 °C)

±0.7 °F (-58° to -13.2 °F) / ±0.4 °C (-50 to -25.1 °C)

±0.7 °F (167° to 211.8 °F) / ±0.4 °C (+75 to +99.9 °C)

±0.5 % of mv (Remaining Range)

Resolution

0.1 °F / 0.1 °C
Temperature - Type K TC

Measuring range

-328° to 2498 °F / -200 to +1370 °C

Accuracy

±0.5 °F (-76° to 140.0 °F) / ±0.3 °C (-60 to +60 °C)

±(0.4 °F + 0.5 % of mv) (Remaining Range) / ±(0.2 °C + 0.5 % of mv) (Remaining Range)

Resolution

0.1 °F / 0.1 °C
Temperature - TC Type T (Cu-CuNi)

Measuring range

-328° to 752 °F / -200 to +400 °C

Accuracy

±0.5 °F (-76° to 140 °F) / ±0.3 °C (-60 to +60 °C)

±(0.4 °F + 0.5 % of mv) (Remaining Range) / ±(0.2 °C + 0.5 % of mv) (Remaining Range)

Resolution

0.1 °F / 0.1 °C
Humidity - Capacitive

Measuring range

0 to +100 %rH

Accuracy

See probe data
Absolute Pressure

Measuring range

0 to +800 InH₂O / 0 to +2000 hPa

Accuracy

See probe data

Resolution

0.1 InH₂O / 0.1 hPa
Velocity - Vane anemometer

Measuring range

0 to 11811 fpm / 0 to +60 m/s

Accuracy

See probe data

Resolution

0.01 fpm (60 + 100 mm Vane) / 0.01 m/s (60 + 100 mm Vane)

0.1 fpm (16 mm Vane) / 0.1 m/s (16 mm Vane)
Velocity - Hot wire anemometer

Measuring range

0 to +3937 fpm / 0 to +20 m/s

Accuracy

See probe data

Resolution

1.97 fpm / 0.01 m/s
Light

Measuring range

0° to 100000 Lux

Accuracy

See probe data

Resolution

1 Lux

0.1 Hz
General technical data

Dimensions

9 x 3 x 2 in. / 220 x 74 x 46 mm

Operating temperature

-4° to 122 °F / -20 to +50 °C

Housing

ABS / TPE / Metal

Protection class

IP54

Battery type

Alkaline, type AA

Battery life

200 h (typical vane measurement)

Display ligthing

Illuminated display

Storage temperature

-22 to +158 °F / -30 to +70 °C

Weight

15 oz. / 428 g
Includes
Includes:Testo 435-2 - Multifunction meter
Testo 435-2 - Multifunction meter
Accessories
Accessories: Testo 435-2 - Multifunction meter
Wireless module for measuring instrument, 915.00 MHz FSK, approved for USA & Canada
Spare thermal paper, permanent ink
Service case for measuring instrument, probe and accessories, dimensions 454 x 319 x 135 mm
Flow straightener testovent 417
testo saline pots for control and humidity adjustment of humidity probes, 11.3 %RH and 75.3 %RH with adapter for humidity probe.
Connection hose, silicone-free, 16.4 ft, load up to 281 inH₂O
Connection hose, silicone, 16.4 ft, load up to 281 inH₂O
Connection hose, silicone, 16.4 ft, load up to 281 inH₂O
testovent 415, volume flow funnel, Ø 8.2 in./7.4x7.4 in., incl. case
testovent 410, volume flow funnel, incl. case