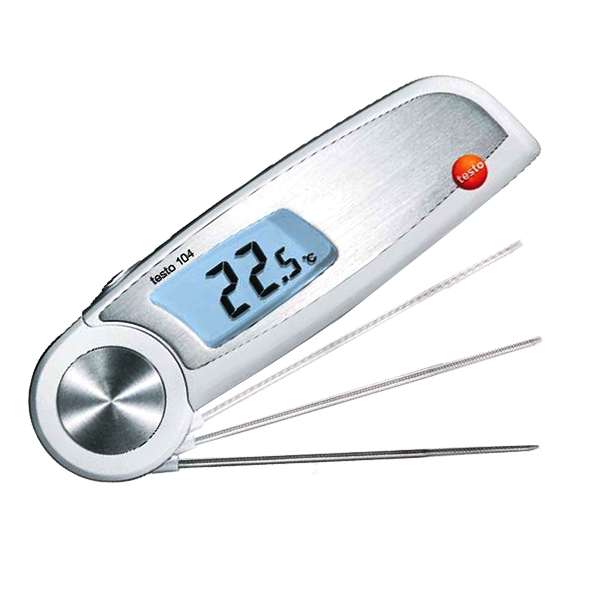 Pharma, Health & Biomedical
Testo 104 Waterproof Folding Food Thermometer
Iconic Engineering Limited
Testo 104 Waterproof Folding Food Thermometer is offering temperature checks play a vital role in quality assurance. Free shipping through Tools Bangladesh
Model: Testo 104 Waterproof Folding Food Thermometer
Temperature checks play a vital role in quality assurance, cold chain documentation, and hygiene regulations. The Testo 104 food probe thermometer can be used to carry out spot checks during the production, storage, and processing of food and measures the core temperature.

The Testo 104's thin, the rugged sensor is fast responding and leaves virtually no trace of measurement.
The Testo 104 food probe thermometer is not only HACCP compliant but also is the only folding food thermometer that can be cleaned under running water, making it ideal for use in any food environment.
Testo 104 not only provides accurate result but also the value of this tool you will know when you use it. It is now at Tools Bangladesh and ready to deliver for Bangladesh.
Key Features: Testo 104 Waterproof Folding Food Thermometer
Super rugged design, built for extreme, everyday use
HACCP compliant
Large, backlit, easy to read display
Color-coded adhesive tabs can prevent cross-contamination
Specifications: Testo 104 Waterproof Folding Food Thermometer
Temperature - NTC

Measuring range

-58° to 482 °F / -50 to +250 °C

Accuracy

±1.8 °F (-58° to -22.2 °F) / ±1.0 °C (-50 to -30.1 °C)

±0.9 °F (-22° to 211.8 °F) / ±0.5 °C (-30 to +99.9 °C)

±1 % of mv (212° to 482 °F) / ±1 % of mv (+100 to +250 °C)

Resolution

0.1 °F / 0.1 °C

Reaction time

t99 = 10 sec (measured in moving liquid)
General technical data

Weight

5.82 oz. (incl. batteries) / 165 g (incl. batteries)

Dimensions

10.4 x 1.9 x 0.8 in. / 265 x 47 x 20 mm (Probe folded out)

6.4 x 1.9 x 0.8 in. / 163 x 47 x 20 mm (probe folded away)

Operating temperature

-4° to 140 °F / -20 to +60 °C

Housing

ABS / ABS-PC fibre glass 10%

Protection class

IP65

Product colour

white

Length probe shaft

4.016 in. / 102 mm

Length probe shaft tip

1.26 in. / 32 mm

Diameter probe shaft

0.118 in. / 3 mm

Diameter probe shaft tip

0.091 in. / 2.3 mm

Measuring rate

0.5 sec

Futher features

Auto hold, hold, min./max.

Standards

EN 13485

EU-/EG-guidelines

2004/108/EG

Battery type

2 AAA batteries

Battery life

100 h (at +25 °C without display illumination)

Display type

LCD

Display size

one-line

Display ligthing

illuminated

Storage temperature

-22° to 158 °F / -30 to +70 °C
Includes: Testo 104 Waterproof Folding Food Thermometer
Testo 104 Waterproof Folding Food Thermometer
Accessories: Testo 104 Waterproof Folding Food Thermometer
Related Products