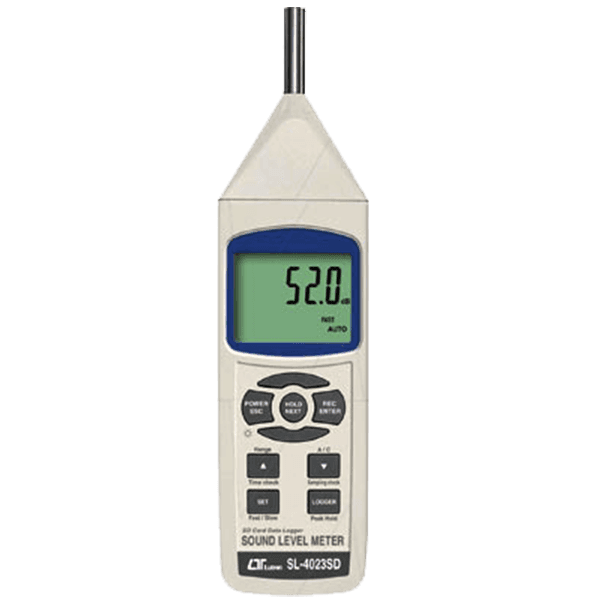 HVAC/Clean Rooms
Lutron SL4023SD Sound level Meter
TMI Biotech Corporation
Lutron SL4023SD Sound level Meter
Lutron SL4023SD Sound level Meter and data logger is suitable for IEC 61672 class 2 applications. Built with condenser microphone for stability and higher accuracy with variable data logging options.
This is easy and adopts looking Class 2 strong level meter that utilizes an SD card (16GB SD Card comes included) to accretion results. This means that you don't auxiliary software to view your results! After taking the desired reading considering the meter, handily appeal out the SD card and plug it into the computer and download your results as a .csv. Comes supplied back 2 Point Traceable Calibration Certificate.
Features: Sound level Meter SL4023SD
Has a measurement range of 30-130 dB.
Main functions are designed per IEC 61672 class 2 standards.
Uses A and C weighting networks.
Has fast and slow dynamic characteristic modes.
Auto range and Manual range selection.
Condenser microphone for high accuracy and long term stability.
Memory function to store maximum and minimum values.
Data Hold function.
Large 52 mm x 38 mm LCD screen
Real time datalogger function with buit-in clock and calendar.
With real time data data recording and sampling time settings.
Also has manual data logging options.
Comes equipped with SD card for data storage.SD card memory ranges from 1 GB to 16 GB.
Specifications: Sound level Meter SL4023SD
Measurement range: 30-130 dB
Resolution: 0.1 dB
Functions: dB ( A & C frequency weighting ), Time weighting ( Fast, Slow ), Peak hold, Data hold and Record ( Max., Min. ).
Range selector (auto): 30 to 130 dB
Range selector (Manual): 30 to 80, 50 to 100, 80 to 130 dB
Data logger sampling time: 1 to 3600 seconds; manual option for saving data one at a time.
Related Products