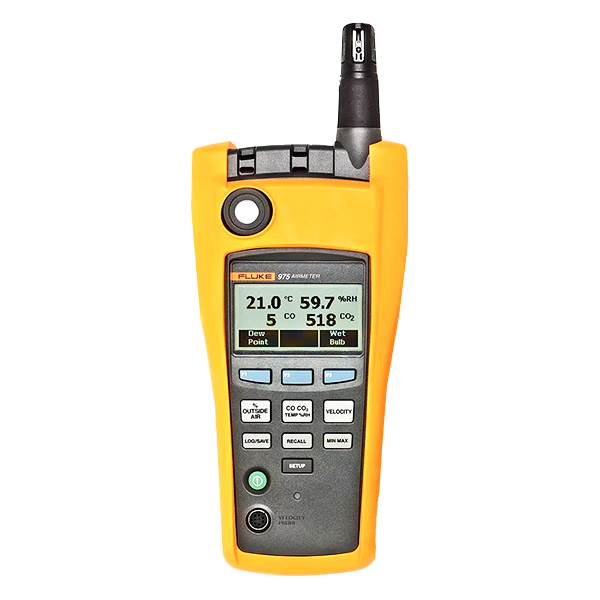 HVAC/Clean Rooms
Fluke 975 Air Meter
Iconic Engineering Limited
Fluke 975 AirMeter™ the best tools for your reliable result. Iconic Engineering offer the best tools in Bangladesh. Fluke 975 the best tools that you can...
Model: Fluke 975 Air Meter
Fluke 975 AirMeter test tool raises indoor air monitoring to the next level by combining five powerful tools in one, rugged and easy-to-use handheld devices. Use the Fluke 975 to optimize HVAC ventilation settings for ASHRAE 62 recommendations, actively monitor conditions that promote a productive environment, and quickly and accurately address occupant comfort complaints the first time.
Fluke is a world-class product and Iconic Engineering is authorized, distributor. Order without question you will get it to your hand for free delivery.
Key features: Fluke 975 AirMeter™
The Fluke 975 offers an unparalleled featureset for HVAC and facilities technicians, helping them work more quickly and accurately, with the ease of use and durability customers expect from a Fluke meter.
Simultaneously measures, logs, and displays temperature, humidity, CO2, and CO on a bright, backlit LCD display
One-touch air flow and velocity with available probe*
Wet bulb and dew point temperature
% of outside air calculation
CO2 and CO field calibration feature
Self-test function at startup
Auto-backlight
Automatically compensates for barometric pressure changes
Min/Max/Average on all measured and calculated readings
Multi-language user interface
Metric or standard units
Audible and visual threshold alarms
Extensive discrete or continuous data logging capacity, downloadable to PC via USB interface
Keypad lock for security
Included FlukeView Forms® software
Included with Fluke 975V, optional with Fluke 975
Specifications: Fluke 975 AirMeter™
Measured Specifications
Temperature
Range
-20°C to 50°C (-5°F to 122°F)
Display resolution
0.1°C (0.1°F)
Accuracy
±0.9°C / ±1.62°F from 40°C to 60°C
±0.5°C / ±1.00°F from 5°C to 40°C
±1.1°C / ±1.98°F from -20°C to 5°C
Relative humidity
Range
10% to 90% RH, non-condensing
Display resolution
1%
Accuracy
±2% RH (10% RH to 90% RH)
Air velocity
Range
50.0 fpm to 3000 fpm
0.25 m/sec to 15 m/sec
Display resolution
1 fpm (0.005 m/sec)
Accuracy
±4% or 4 fpm1
±4% or 0.02 m/sec1 whichever is greater
1. Accuracy specification only valid for velocity readings above 50 fpm.
C0
Range
0 to 500 ppm
Display resolution
1 ppm
Accuracy
±5% or ±3 ppm, whichever is greater, @ 20°C and
50% RH
C02
Range
0 to 5000 ppm
Display resolution

1 ppm
Accuracy
Warm up time 1 min (5 minutes for full specification) 2.75% + 75 ppm
Calculated Specifications
Dew point temperature
Range
-44°C to 50°C, (-47°F to 122°F)
Display resolution
0.1°C (0.1°F)
Accuracy
±1°C when temp: -20°C to 50°C RH: 40% to 90%
±2°C when temp: -20°C to 50°C RH: 20% to 40%
±4°C when RH: 10% to 20%
Wet bulb temperature
Range
-16°C to 50°C, (3°F to 122°F)
Display resolution
0.1°C, (0.1°F)
Accuracy
±1.2°C when RH: 20% to 90% temp: -20°C to 60°C
±2.1°C when RH: 10% to 20%
Volume flow rate (in a duct)
Range
0 to 3,965 M3/m, (0 to 140,000 cfm)
Display resolution
0.001 M3/min, (1 cfm)
Accuracy
N/A: The volume flow calculation will be a simple average of the data points times the duct area
% outside air (based on temperature)
Range
0 to 100%
Display resolution
0.1
% outside air (based on CO2)
Range
0 to 100%
Display resolution
0.1% N/A
General Specifications
Operating and storage temperature
-20°C to 50°C (-4°F to 122°F)
Humidity
10% to 90% (non-condensing)
Altitude
Up to 2000 m (6562 ft)
Shock and vibration
MIL-PRF-28800F: Class 2
Multi-language interface
English, French, Spanish, Portuguese and German
Battery
Rechargeable Li-Ion (primary), three-AA (backup)
Data logging
25,000 records (continuous), 99 records (discrete)
Warranty
Two-years
Includes: Fluke 975 AirMeter™
Related Products