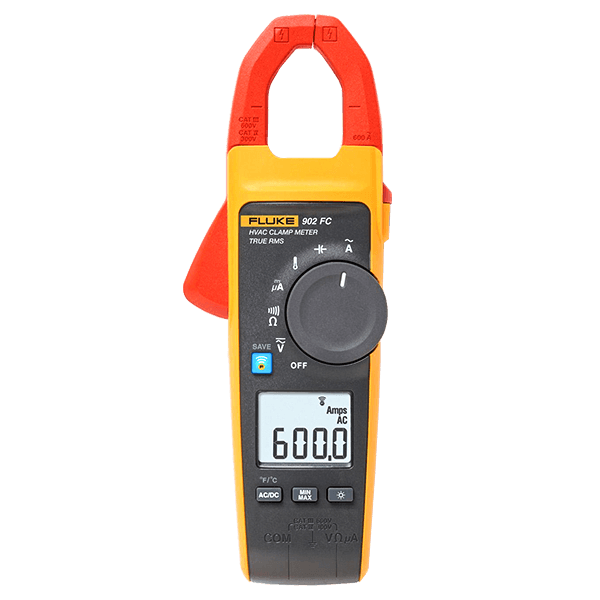 HVAC/Clean Rooms
Fluke 902 FC True-RMS HVAC Clamp Meter
Iconic Engineering Limited
Fluke 902 FC Clamp Multimeter is rugged and reliable that you will get accurate results and with Fluke Connect™. Use your clamp meter to measure current wirelessly that you need. Buy now from Tools Bangladesh.
Model: Fluke 902 FC True-RMS HVAC Clamp Meter
\Fluke 902 FC True-RMS HVAC Clamp Meter the top class and brand new Fluke Clamp Meter that you can depend on.
The Fluke 902 FC Clamp Meter, following Fluke Connect wireless connectivity, can in the future HVAC technicians embellish productivity in the arena. The rugged dual-rated CAT III 600 V, CAT IV 300 V meter equips you to statute many valuable HVAC systems.
Measurements: microamps for scrutiny pilot fresh sensors; resistance taking place to 60 k; AC current and AC/DC voltage; capacitance; and associations temperature, all together amid just one tool. Plus its little form factor makes it comprehensible to hang upon to and navigate in tight be roomy spaces.
Other useful features:
Ergonomic design fits in your hand and can be used while wearing personal protective equipment
Large, easy-to-read backlit display improves readings in low light settings
Connects to your smartphone via Fluke Connect so you can read measurements at a safer distance
Measures AC current to 600 A and AC and DC voltage to 600 V
Measures capacitance to 1000 µF and DC current to 200 µA
Measures temperature from -10 °C to 400 °C (14 °F to 752 °F)
Offers True-RMS voltage and current measurements to accurately measure non-linear signals
Measures resistance to 60 kΩ
Offers Min/Max recording to capture variations automatically
Runs on two AA alkaline batteries
A professional engineer always wants to use the Fluke tool because of the 100% accurate result that is possible to get. Buy now from Tools Bangladesh with the best price in Bangladesh.
Key features: Fluke 902 FC True-RMS HVAC Clamp Meter
A wireless Fluke Connect®-enabled clamp meter designed specifically for the needs of HVAC technicians
Offers 200 µA DC current measurements to measure flame rod
Extends resistance range to measure thermistors up to 60kΩ
Captures flue gas temperature
Measures start and run motor capacitors
Measures variable frequency drive performance
Specifications: Fluke 902 FC True-RMS HVAC Clamp Meter
Function
A ac (via Jaw)
Resolution
0.01/0.1 A
Accuracy
2.0% ±5 digit (45-65 Hz)
2.5% ±5 digit (65-400 Hz)
Range
60.00/600.0 A
Crest Factor (50Hz or 60Hz)
2.5 MIN@220 A
3.0 MIN@180 A
> 1.4 MIN@600 A
Add 2% for CF>400 A
V ac
Resolution
0.1 V
Accuracy
1.5% ±5 digits
Range
600.0 V
V dc
Resolution
0.1 V
Accuracy
1.5% ±5 digits
Range
600.0 V
Ohms
Resolution
0.1/1/10
Accuracy
1% ±5 digits
Range
600/6000/60.00 kΩ
Capacitance
Resolution
0.1/1 µF
Accuracy
1% ±4 digits
Range
100.0/1000 µF
µA
Resolution
0.1 µA
Accuracy
1% ±5 digits
Range
200 µA
Contact temperature
Resolution
0.1 C/F
Accuracy
1% ±8 digits
Range
-40 to 400 °C (-40 °F to 752 °F)
Continuity beeper
Beeper volume
75 dBA nom. 15 cm. from case front
On threshold
<=30 Ω
Mechanical and General Specifications
Maximum voltage between any terminal and earth ground
1000 V
Battery type
2 AA alkaline batteries, NEDA 15A, IEC LR6
Temperature
Operating: -10 °C to +50 °C (14 °F to +122 °F)
Storage: -40 °C to +60 °C (-40 °F to +140 °F)
Operating humidity
Non condensing (< 10 °C [50 °F]), ≤90 % RH (at 10 °C to 30 °C [50 °F to 86 °F]), ≤75 % RH (at 30 °C to 40 °C (86 °F to 104 °F)), ≤45 % RH (at 40 °C to 50 °C (104 °F to 122 °F))
Altitude
Operating: 3,000 m (9,842 ft)
Storage: 12,000 m (39,370 ft)
Dimensions
230 x 83.7 x 45.4mm (9.06 x 3.30 x 1.39 in)
Weight (meter only)
419 g (15 oz)
Safety
IEC 61010-1, Pollution Degree 2
IEC 61010-2-032: CAT III 1000 V / CAT IV 600 V
IEC 61010-2-033: CAT III 1000 V / CAT IV 600 V
IP Rating
IEC 60529: IP30, non-operating
Radio Frequency Certification
FCC ID:T68-FBLE IC:6627A-FBLE
Electromagnetic Compatibility (EMC)
International: IEC 61326-1: Portable, Electromagnetic Environment, IEC 61326-2-2 CISPR 11: Group 1, Class A Korea (KCC): Class A Equipment (Industrial Broadcasting & Communication Equipment) USA (FCC): 47 CFR 15 subpart B. This product is considered an exempt device per clause 15.103.
Temperature coefficients
Add 0.1 × specified accuracy for each degree C above 28 °C or below 18 °C
Includes: Fluke 902 FC True-RMS HVAC Clamp Meter
TL75 test leads (1 pair)
80BK integrated DMM temperature probe (1)
AA alkaline batteries (2)
Soft carrying case
User's manual
Accessories: Fluke 902 FC True-RMS HVAC Clamp Meter
Cases (4)
Fluke C33 Soft Carrying Case
Fluke C550 Tool Bag
Fluke C781 Meter Case
Fluke C1600 Gear Box for Meters and Accessories
Other (2)
Fluke TPAK ToolPak™ Magnetic Meter Hanger
Fluke MeterCleaner™ Wipes
Clips (4)
Fluke AC220 SureGrip™ Alligator Clips
Fluke AC285 SureGrip™ Alligator Clips
Fluke AC87 Heavy Duty Bus Bar Clip Set
Fluke AC89 Heavy Duty Insulation Piercing Test Clip
Lights (2)
Fluke LVD1A Non-Contact Voltage Tester with LED Flashlight
Fluke L206 Deluxe LED Hat Light
Kits (1)
Fluke L210 Probe Light Kit
Adapters (1)
Fluke 80AK-A Thermocouple Adapter
Probes (1)
Fluke 80PK-8 Pipe Clamp Temperature Probe
Test leads (5)
Fluke TL220 SureGrip™ Industrial Test Lead Set
Fluke TL223 SureGrip™ Electrical Test Lead Set
Fluke TL224 SureGrip™ Insulated Test Leads
Fluke TL71 Premium Test Lead Set
Fluke TL75 Hard Point™ Test Lead Set
Test probes (1)
Fluke TP1 Slim Reach Test Probes
Related Products