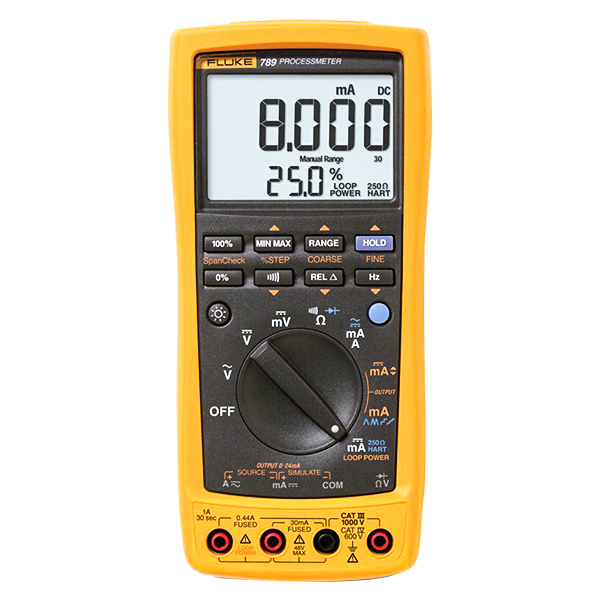 Calibration
Fluke 789 ProcessMeter
Iconic Engineering Limited
Fluke 789 ProcessMeter now available in the biggest e-commerce site in Bangladesh. Tools Bangladesh provide a reliable & trusted Fluke Brand Products...
Model: Fluke 789 ProcessMeter
Fluke 789 ProcessMeter features a very large dual display with enhanced two-level backlight brightness settings.
Fluke 789 ProcessMeter not only provides you the accurate result but also the value of this meter top of the line. The most important thing about Fluke 789 ProcessMeter accuracy. This meter accuracy is 0.2% + 2 LSD (DC). Not only this meter has great accuracy but also the Range, Resolution, Frequency, Voltage measurement are spot on.
The Fluke 789 has a display that's not only twice as large as the Fluke 787B but also twice as bright with two levels of backlighting. And its built-in, selectable 250 ohm HART® resistor eliminates the need to carry a separate resistor.
It combines the functionality of a loop calibrator with the power of a digital multimeter and the wireless capabilities of Fluke Connect connectivity with an optional IR3000FC module.
Buy now this Affordable product from Tools Bangladesh. Iconic Engineering keeps the ability to deliver all over in Bangladesh.
Key Features: Fluke 789 ProcessMeter
Ultimate troubleshooting tool for electricians and instrumentation professionals
Combines the functionality of a loop calibrator with the power of a precision 1000 V, 440 mA True-RMS digital multimeter
Optional IR3000FC module for wireless data logging capabilities via Fluke Connect® mobile App
Includes 24 V loop power supply
Features a very large dual display with enhanced two-level backlight brightness settings
Specifications: Fluke 789 ProcessMeter™
Specifications
Current measurement
Range
0-1 A AC or DC
Resolution
1 mA
Accuracy
0.2% + 2 LSD (DC)
Range
0-30 mA
Resolution
0.001 mA
Accuracy
0.05% + 2 lSD
Current sourcing
Range
0-20 mA or 4-20 mA
Resolution
0.05% of span
Drive capability
24 V Compliance or 1200 Ω @ 20 mA
Frequency
to 19.999 kHz, 0.005% + 1 LSD
Continuity
Beeps for resistance < 100 Ω
Voltage measurement
Range
0-1000 V AC (true-rms) or DC
Resolution
0.1 mV to 1.0 V
Accuracy
0.1% Rdg + 1 LSD (VDC)
Resistance measurement
to 40 MΩ, 0.2% + 1 LSD
Diode test
2.0 V shoes diode voltage drop
Display current and % of span
Yes
Auto Step, Auto Ramp
Yes
Environmental Specifications
Operating temperature
-20°C to 55°C
Storage temperature
-40°C to 60°C
Humidity (without condensation)
95% up to 30°C
75% up to 40°C
45% up to 50°C
35% up to 55°C
Temperature coefficient
0.05 x (specified accuracy) per °C (for temperatures < 18°C or > 28°C)
Safety Specifications
Electrical safety
Designed in accordance with IEC 1010-1, ANSI/ISA S82.01-1994 and CAN/CSA C22.2 No 1010.1-92
Overvoltage category
IEC 1010-1 CAT III 1000 V
IEC 1010-1 CAT IV 600 V
Maximum voltage
1000 V RMS
Mechanical and General Specifications
Size (H x W x L)
50 x 100 x 203 mm (1.25 x 3.41 x 7.35 in)
Weight
610 g (1.6 lbs)
Batteries
4 AA alkaline batteries
Warranty
3 years
Battery life
140 hours typical (measurement), 10 hours typical (sourcing 20 mA)
Shock and vibration
Random, 2 g, 5-500 Hz
1 meter drop test
Includes: Fluke 789 ProcessMeter
AC175 Alligator Clips
Four (4) AA 1.5 V alkaline batteries (installed)
TL71 safety-designed test lead set
Accessories: Fluke 789 ProcessMeter
Cases (6)
Fluke C100 Universal Carrying Case
Fluke C125 Meter Case
Fluke C25 Large Soft Case for DMMs
Fluke CXT80 Extreme Case
Fluke C510 Leather Meter Case
Fluke CAMO-C25 Camouflage Carrying Case
Clips (6)
Fluke AC220 SureGrip™ Alligator Clips
Fluke AC280 SureGrip™ Hook Clips
Fluke AC283 SureGrip™ Pincer Clips
Fluke AC285 SureGrip™ Alligator Clips
Fluke AC89 Heavy Duty Insulation Piercing Test Clip
Fluke AC87 Heavy Duty Bus Bar Clip Set
Current clamps (5)
Fluke i1010 AC/DC Current Clamp
Fluke i200 AC Current Clamp
Fluke i200s AC Current Clamp
Fluke i400 AC Current Clamp
Fluke i410 AC/DC Current Clamp
Connectors (1)
Fluke BP980 Double Banana Plug Kit
High voltage probes (1)
Fluke 80K-15 High Voltage Probe
Automotive (2)
Fluke PV350 Pressure Vacuum Module
Fluke TL28A Automotive Test Lead Set
Probes (4)
Fluke 80PK-24 SureGrip™ Air Temperature Probe
Fluke 80K-40 High Voltage Probe
Fluke 80PK-26 SureGrip™ Tapered Temperature Probe
Fluke 80T-150UA Universal Temperature Probe
Other (2)
Fluke MeterCleaner™ Wipes
Fluke TP912 Replacement Tips for TL910
Fiber optics (2)
Fluke FOM Fiber Optic Meter
Fluke FOS-850/1300 Fiber Optic Light Source
Lights (2)
Fluke FOS-850 Fiber Optic Light Source
Fluke L215 SureGrip™ Kit with Probe Light and Probe Extenders
Fluke calibration software (1)
Fluke FlukeView® Forms Software with Cable
Visual IR thermometers (1)
Fluke 80TK Thermocouple Module
Test probes (7)
Fluke TL910 Electronic Test Probes
Fluke TP38 Slim Reach Test Probe Set
Fluke TP1 Slim Reach Test Probes
Fluke TP2 Slim Reach Test Probes
Fluke TP220 SureGrip™ Industrial Test Probes
Fluke TP4 Slim Reach Test Probes
Fluke TP80 Electronic Test Probes
Adapters (1)
Fluke TP920 Test Probe Adapter Set
Test leads (17)
Fluke H900 Test Lead Holder
Fluke TL220 SureGrip™ Industrial Test Lead Set
Fluke TL221 SureGrip™ Test Lead Extension Set
Fluke TL222 SureGrip™ Silicone Insulated Test Leads
Fluke TL223 SureGrip™ Electrical Test Lead Set
Fluke TL224 SureGrip™ Insulated Test Leads
Fluke TL238 SureGrip™ Test Lead Set for High Energy Environments
Fluke TL27 Heavy Duty Test Lead Set
Fluke TL40 Retractable Tip Test Lead Set
Fluke TL71 Premium Test Lead Set
Fluke TL75 Hard Point™ Test Lead Set
Fluke TL76 2mm/4mm Test Lead Set
Fluke TL81A Deluxe Electronic Test Lead Kit
Fluke TL940 Mini-Hook Test Leads
Fluke TL950 Mini-Pincer Test Leads
Fluke TL960 Micro-Hook Test Leads
Fluke TL970 Hook and Pincer Set
Cables (3)
Fluke TL930 Patch Cords (60 cm)
Fluke TL932 Patch Cords (90 cm)
Fluke TL935 Patch Cords (60, 90, 120 cm)
Related Products