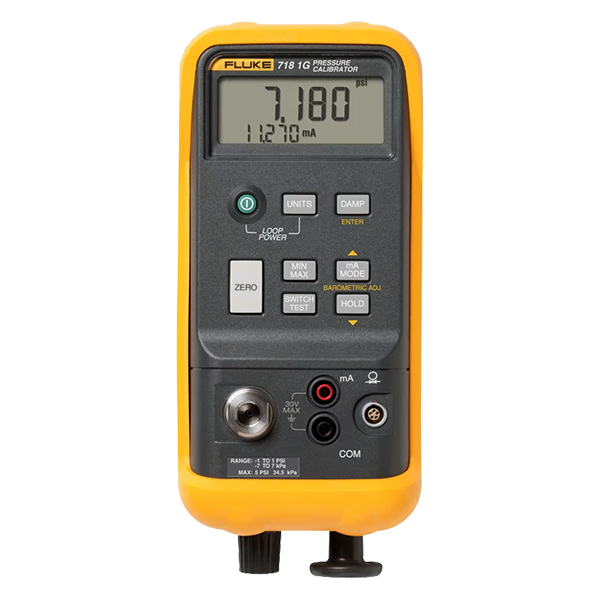 Calibration
Fluke 718 Pressure Calibrator
Iconic Engineering Limited
The Fluke 718 combines has all of the functions you'll need to calibrate transmitters, gauges and switches. We offer the lowest price pressure calibrator in bd..
Model: The complete solution to pressure calibration
Fluke 718 Pressure Calibrator provides a total pressure calibration solution for transmitters, gauges, and switches. This compact pressure calibration solution is about a third of the size of comparable instruments and weighs just one kilogram (two pounds).
The unique easy to clean pump helps protect the pump from damage and provides the ability to service the pump without disassembly, even in the field. Fluke product is one of the best in the world and that is popular as productivity.
What are you think now? The brand new product is ready at affordable prices! Just grab this from Tools Bangladesh and get the best result with a reliable supplier in Bangladesh.
Key features: Fluke 718 Pressure Calibrator
Pressure Source and Milliamp Measurement to calibrate and maintain almost any pressure device
The integrated pump is easily cleaned when accidently exposed to fluids that reduces the cost of ownership and repairs and enables servicing the pump in the field
Error % calculation for quicker pass/fail decision making in the field
Best in class mA accuracy of 0.015% for better measurement confidence and workload coverage
Min/Max/Hold to capture changing measurements
Switch test feature for quicker and more accurate pressure switch testing
New 1 and 300 psi pressure ranges mean fewer extra tools required
1, 30, 100 & 300 psi ranges now available
Specifications: Fluke 718 Pressure Calibrator
Technical Specifications
Fluke 718 Series
Measure pressure
(Internal sensor)
Accuracy
0.025% full scale
Functions
Zero, min/max, hold, damp
Dry air, non-corrosives only
Fluke 718 1G
Range
-1 psi to +1 psi, -68.9 mbar to 68.9 mbar (-6.89 kPa to 6.89 kPa)
Resolution
0.0001 psi, 0.001 mbar, 0.0001 kPa
Over pressure
5x Full Scale
Functions
Zero, Min, Max, Hold, Damp
Fluke 718 30G
Range
-12 psi to 30 psi, (-850 mbar to 2 bar, -85 to 206.84 kPa)
Resolution
0.001 psi, 0.1 mbar, 0.01 kPa
Over pressure
5x Full Scale
Functions
Zero, Min, Max, Hold, Damp
Fluke 718 100G
Range
-12 psi to 100 psi, (-850 mbar to 7 bar, -85 to 689.48 kPa)
Resolution
0.01 psi, 0.1 mbar, 0.01 kPa
Over pressure
2x Full Scale
Functions
Zero, Min, Max, Hold, Damp
Fluke 718 300G
Range
-12 psi to 300 psi, (-850 mbar to 20 bar, -85 to 2068.42 kPa)
Resolution
0.01 psi, 1 mbar, 0.1 kPa
Over pressure
375 psi 25 bar
Functions
Zero, Min, Max, Hold, Damp
Fluke 718 series via 700 Series Pressure Modules
Range
29 pressure modules, 0 – 1 inH20 to 10,000 psi, 2.5 mbar to 700 bar. Over pressure per pressure module specs
Resolution
Per pressure module specs
Accuracy
To 0.025% of full span, per pressure module specs
Functions
Zero, Min, Max, Hold, Damp
Media compatibility per pressure module specs
Fluke 718 Series Via Built in Pump
Range
-12 psi or -850 mbar to full scale Supported Pressure Units; psi, inH20 (4°C), inH20 (20°C), cmH20 (4°C), cmH20 (20°C), bar, mbar, kPa, inHg, mmHg, kg/cm
Loop power range
24 V DC
Accuracy
±10%
Drive; 20 mA into 1000 Ω for battery > 6.8 V; 700 Ω for battery 5.8 to 6.8 V
mA Measure
Range
0 mA to 24 mA
Resolution
0.001 mA
Accuracy
0.015% + 1 count
General Specifications
Maximum voltage
30 volts (non-operating)
Temperature
-40°C to 60°C
Operating temperature
-10°C to 55°C
Relative humidity
95% (10°C to 30°C); 75% (30°C to 40°C); 45% (40°C to 50°C); 35% (50°C to 55°C)
Operating altitude
3,000 M max
Shock
1 M drop test
Vibration
Random, 2 g, 5 Hz – 500 Hz
Safety
CSA C22.2 No. 1010.1: 1992
EMC
EN50082-1: 1992 and EN55022: 1994 Class B
Size
216 x 94 x 66 mm (8.50 x 3.72 x 2.60 in)
Weight
992 g (35 oz)
Power, battery life
9V battery ANSI/NEDA 1604A or IEC 6LR619V alkaline; two batteries in 718
Battery life
4 to 20 hours typical, depending on functions used
Warranty
Three years (one year on pressure pump in Fluke 718)
Display
LCD, 5 digit pressure and current simultaneous
Includes: Fluke 718 Pressure Calibrator
Protective Yellow Holster with test lead storage
Instructions Sheet (14 languages)
Test Leads and Alligator Clip
Two 9V alkaline batteries
NIST - Traceable calibration report and data
Accessories: Fluke 718 Pressure Calibrator
Cases (3)
Fluke C101 Hard Case
Fluke C530 Leather Accessory Case
Fluke C550 Tool Bag
Clips (1)
Fluke AC220 SureGrip™ Alligator Clips
Pressure (2)
Fluke 700PRV Pressure Relief Valve Kit
Fluke 700HTH-1 Hydraulic Test Hose
Pumps (3)
Fluke 700 PMP Pressure Pump
Fluke 700HTP-2 Hydraulic Test Pump
Fluke 700PTP-1 Pneumatic Test Pump
Other (1)
Fluke 700ILF In-Line Filter
Test leads (6)
Fluke TL220 SureGrip™ Industrial Test Lead Set
Fluke TL221 SureGrip™ Test Lead Extension Set
Fluke TL223 SureGrip™ Electrical Test Lead Set
Fluke TL224 SureGrip™ Insulated Test Leads
Fluke TL71 Premium Test Lead Set
Fluke TL75 Hard Point™ Test Lead Set
Related Products