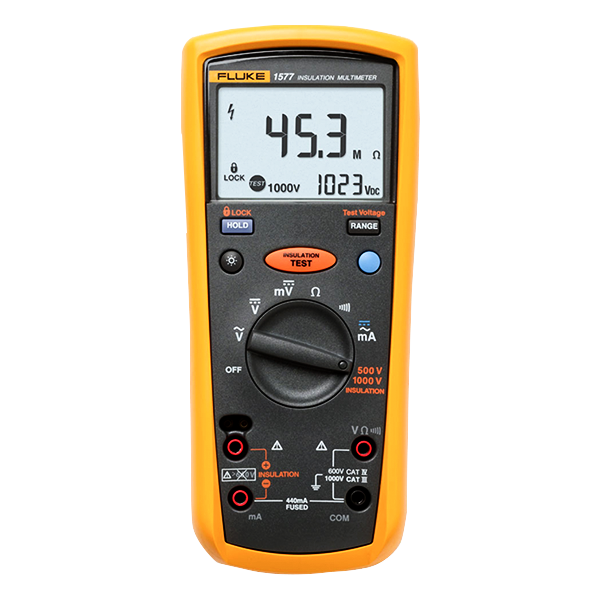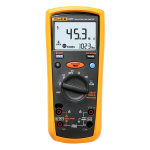 Model: Fluke 1577 Insulation Multimeter
Fluke 1577 Insulation Multimeter solution for your accurate result. two powerful tools in one the Fluke 1587 and 1577 Insulation Multimeters mix a digital insulation tester with a full-featured, true RMS digital multimeter during a single, compact, hand-held unit, that provides most skillfulness for each troubleshooting and preventative maintenance.
Fluke 1577 does not only provide an accurate result but also the value of this product on the spot you can't amazing.
Whether you're employed on motors, generators, cables, or switchgear, the Fluke 1587/1577 Insulation Multimeters area unit ideally suited to assist you together with your tasks and at a value that's so much but shopping for the 2 merchandise.
Order through Tools Bangladesh where you want to take the delivery we promise you that your ordered product will be deliver to your doorstep.
Features
Fluke 1577 Insulation Multimeter
Key features:
Insulation test voltages 500 V, 1000 V
Insulation test: 0.1 MΩ to 600 MΩ
Auto discharge of capacitive voltage
AC/DC Voltage
DC millivolts
Auto power off to save battery power
Accepts optional Fluke TPAKTM magnetic hanging system to free your hands for other work
CAT III 1000V, CAT IV 600V measurement category
Live circuit detection prevents insulation test if voltage > 30 V is detected for added user protection
AC/DC milliamps
Resistance (0.1 Ω to 50 MΩ)
Continuity
Three-year warranty
Remote probe, test leads, alligator clips
Rugged, utility hard case
True RMS
Large display with backlight
Specifications
Specifications: Fluke 1577 Insulation Multimeter
Specifications
Voltage DC
Maximum voltage
1000 V
Accuracy
±(0.2%+2)
Maximum resolution
0.001 V
Voltage AC
Maximum voltage
1000 V
Accuracy
±(2%+3)
Maximum resolution
0.1 mV
Current DC
Maximum amps
400 mA
Amps accuracy
±(1.0%+2)
Maximum resolution
0.01 mA
Current AC
Maximum amps
400 mA
Amps accuracy
±(2.0%+2)*
Maximum resolution
0.01 mA
Resistance
Maximum resistance
50 MΩ
Accuracy
±(1.2%+2)
maximum resolution
0.1Ω
Insulation Test
Minimum test current @ 1kΩ/V
1 mA
Test voltages
500, 1000 V
Maximum resistance per test voltage
50 V
100 V
250 V
500 V
1000 V
600 MΩ
Maximum resolution per test voltage
50 V
0.01 MΩ
100 V
0.01 MΩ
250 V
0.1 MΩ
500 V
0.1 MΩ
1000 V
0.1 MΩ
Accuracy per test voltage
50 V
±(3% + 5)
100 V
±(3% + 5)
250 V
±(1.5% + 5)
500 V
±(2.0% + 5)
1000 V
±(2.0% + 5)
Environmental Specifications
Operating temperature
–20°C to +55°C
Storage temperature
-40°C to +60°C
Humidity (without condensation)
0% - 95% (10°C – 30°C)
0% - 75% (30°C – 40°C)
0% - 40% (40°C – 55°C)
Operating altitude
2000 m
Safety Specifications
Overvoltage category
Complies with ANSI/ISA 82.02.01 (61010-1) 2004, CAN/CSA-C22.2 NO. 61010-1-04, and IEC/EN 61010-1 2nd Edition for measurement CAT III 1000 V and CAT IV 600 V
Agency approvals
2000 m CAT III 1000 V, CAT IV 600 V; 3000 m CAT II 1000 V, CAT III 600 V
Mechanical and General Specifications
Size
203 x 100 x 50 mm (with holster)
Weight
624 g
Warranty
3 years
Battery life alkaline
Meter use
1000 hours
Insulation test use
Meter can perform at least 1000 insulation tests with fresh alkaline batteries at room temperature. These are standard tests of 1000 V into 1 MΩ with a duty cycle of 5 seconds on and 25 seconds off.
IP rating
IP40
Includes
Models: Fluke 1577 Insulation Multimeter
Includes:
Remote probe
Test Leads
Alligator clips
CD Rom with manual
Quick reference guide
Hard case
Four AA alkaline batteries
Accessories
Accessories: Fluke 1577 Insulation Multimeter
Cases (4)
Fluke C101 Hard Case
Fluke C25 Large Soft Case for DMMs
Fluke CAMO-C25 Camouflage Carrying Case
Fluke CXT170 Extreme Case
Other (2)
Fluke TPAK ToolPak™ Magnetic Meter Hanger
Fluke MeterCleaner™ Wipes
Clips (1)
Fluke AC285 SureGrip™ Alligator Clips
Test leads (2)
Fluke TLK-225 SureGrip™ Master Accessory Set
Fluke TL27 Heavy Duty Test Lead Set
Lights (2)
Fluke LVD1 Volt Light
Fluke L200 Probe Light
Current clamps (3)
Fluke i1010-KIT AC/DC Current Clamp and Carry Case Kit
Fluke i200 AC Current Clamp
Fluke i400 AC Current Clamp
Kits (1)
Fluke L210 Probe Light Kit
Adapters (1)
Fluke 80AK-A Thermocouple Adapter
Probes (3)
Fluke 80PK-27 SureGrip™ Industrial Surface Temperature Probe
Fluke 80PK-3A Surface Probe
Fluke 80PK-8 Pipe Clamp Temperature Probe
Test probes (1)
Fluke TP220 SureGrip™ Industrial Test Probes