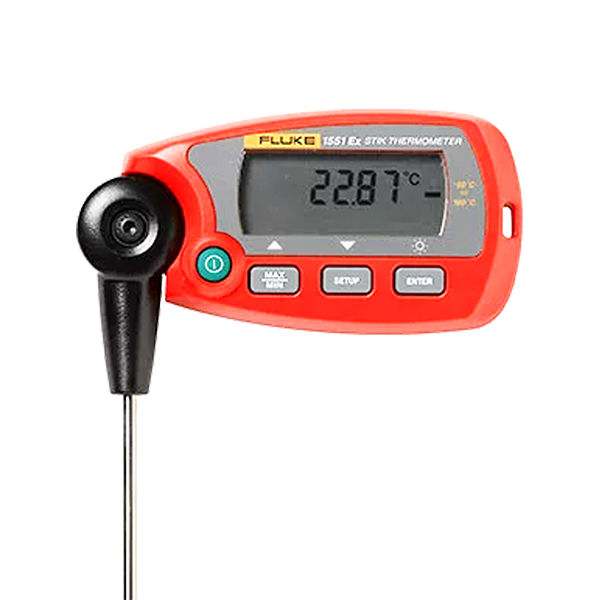 Calibration
Fluke 1552a Stik Thermometer & Temperature Calibrator
Iconic Engineering Limited
Let you know about the Fluke Calibration 1552a Stik Thermometer, a highly accurate tool recognized as the gold standard of industrial temperature calibrators now which is available with the lowest price in Bangladesh for you...
Model: Fluke 1552a Stik Thermometer & Temperature Calibrator
Fluke 1552a Stik Thermometer & Temperature Calibrator is Intrinsically-safe, battery-operated, portable reference thermometer. I think it will be great with your planning budget.
Fluke 1552a Stik Thermometer & Temperature Calibrator
Fluke 1552A Stik Thermometer is the "gold all right" of industrial temperature calibration
Finally, there is a digital the theater for your mercury-in-glass thermometers. The Fluke 1552A "Stik" Thermometer delivers repeatable temperature measurements accurate to 0.05C on summit of its full range.
Whether you feat outdoors in environments where potentially explosive gases may be tune or in description to the floor of a admin plant, the intrinsically-safe, battery-operated, portable hint thermometer is intended to go where you press at the forefront. It's a colossal substitute for daily checks of on the go thermometers, custody transfer temperature objective, PET calibration, LIG calibration, and temperature transmitter calibration and proclamation.
The stainless steel scrutinizes and digital readout are get together and calibrated as a system. The large backlit LCD display rotates 90 degrees making it easy to entre from any angle. And a fan-configurable stability/trend indicator lets you know subsequent to your temperature is stable ample to folder an accurate measurement.
An enthusiast-settable auto-off pretense extends typical battery moving the picture to happen to 300 hours. And the low-battery indicator and defer-organization court case prevents erroneous measurements from beast made due to a low battery. Plus you can easily and adroitly calibrate the 1552A subsequent to an easy three-lessening calibration doing.
Tools Bangladesh is providing the best price in Bangladesh of 1552a Stik Thermometer & Temperature Calibrator that is very popular reliable and trusted.
Key features: Fluke 1552a Stik Thermometer & Temperature Calibrator
Intrinsically-safe, battery operated, portable reference thermometer
Provides accuracy of ±0.05°C (±0.09°F) over full range
Features intrinsically-safe operation (ATEX and IECEx compliant)
Measures -80 °C to 300 °C ( -112 °F to 572 °F)
Provides user-configurable temperature with Trend/Stability indicator
Displays temperature in °C or °F
Offers optional data logging to internal memory
Specifications: Fluke 1552a Stik Thermometer & Temperature Calibrator
Specifications
Temperature range
-80°C to 300°C
(-112°F to 572°F)
Accuracy (1 year)
±0.05°C (±0.09°F)
Display units
°C, °F
Sensor type
100 Ω wire-wound PRT
Probe temperature coefficient
0.00385 Ω/Ω/°C nominal
Sensor length
≤ 30 mm
Sensor position (from sheath tip)
3 mm (0.1 in)
Minimum immersion depth
12 cm (4.8 in)
Probe sheath material
Stainless steel
Response time
4.8 mm diameter probe (3/16 in): 14 seconds
6.35 mm diameter probe (1/4 in): 21 seconds
Probe hysteresis
±0.01°C
Temperature resolution
Selectable: 0.1, 0.01, 0.001 (default 0.01)
Sample rate
Selectable: 0.5 seconds, 1 second, 2 seconds (default 1 seconds)
Operating temperature range readout
-10°C to 50°C (14°F to 122°F)
Temperature resolution
Selectable: 0.1, 0.01, 0.001 (default 0.01)
Sample rate
Selectable: 0.5 seconds, 1 second, 2 seconds (default 1 seconds)
Operating temperature range readout
-10°C to 50°C (14°F to 122°F)
Storage temperature
-20°C to 60°C (-4°F to 140°F) 0% to 95% RH, non-condensing
Optional data logging1
Up to 10,000 time-stamped readings stored to internal memory
Logging intervals1
2 seconds, 5 seconds, 10 seconds, 30 seconds, or 60 seconds;
2 minutes, 5 minutes, 10 minutes, 30 minutes, or 60 minutes
Damping
Moving average of the most recent 2 to 10 readings
(ON/OFF, 2, 5, 10)
Communications
RS-232 stereo jack (access calibration parameters only)
AC power
None
DC power
3-AAA Batteries, typical battery life of 300 hours without LCD backlight
EMC compliance
EN61326:2006 Annex C; CISPR II Edition 5.0-2009; Class B
Enclosure rating
IP50
Electronics dimensions (H x W x D)
114 x 57 x 25 mm
(4.5 x 2.25 x 1.0 in)
Weight
196 g (6.9 oz)
Calibration (included)
NVLAP-accredited, NIST-traceable
Characterization
ITS-90
1. See ordering information for optional data logging configurations
Includes: Fluke 1552a Stik Thermometer & Temperature Calibrator
Fixed PRT, -80°C to 300°C
NVLAP-accredited report of calibration
User's Guide on CD-ROM
3 AAA batteries
Related Products