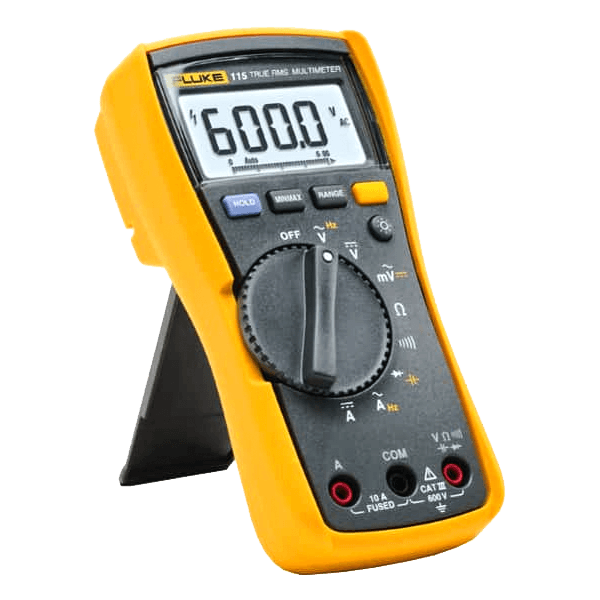 Electrical
Fluke 115 True-RMS Digital Multimeter
Iconic Engineering Limited
Fluke 115 Digital Multimeter with non-contact voltage for technician's including true RMS. Tools BD offers Fluke 115 Digital Multimeter with the best price.
Model: Fluke 115 True RMS Digital Multimeter
The Fluke 115 digital multimeter is a Compact Multimeter for Field Service Technicians, designed to be used as a general-purpose troubleshooting tool.
The most important thing about Fluke 115 Compact Multimeter provides 5% accuracy. Each also includes a bright white LED backlit screen for easy viewing in any environment. The warranty for each unit is 3 years.
Iconic Engineering offers the best tools & world-class Fluke 115 Digital Multimeter through Tools Bangladesh with the best price in Bangladesh. The reliable e-commerce site for providing the best tools in your hand.
Fluke 115 True-RMS Digital Multimeter
Key features:
General-purpose digital multimeter for electrical and electronic testing
Ideal for quick verifications and field service
Presents a large white LED backlight for working in poorly lit areas
Measures AC and DC voltage to 600V
Measures AC and DC current to 10A (20 A overload for 30-seconds max)
Specifications: Fluke 115 True-RMS Digital Multimeter
Specifications
Maximum voltage between any terminal and earth ground
600 V
Surge protection
6 kV peak per IEC 61010–1 600 VCAT III, Pollution Degree 2
Display
Digital: 6,000 counts, updates 4 per second
Bar graph
33 segments, updates 32 per second
Operating temperature
-10°C to + 50°C
Storage temperature
-40°C to + 60°C
Battery type
9 volt Alkaline, NEDA 1604A/ IEC 6LR61
Battery life
400 hours typical, without backlight
Accuracy Specifications
DC millivolts
Range/resolution
600.0 mV / 0.1 mV
Accuracy
± ([% of reading] + [counts]): 0.5% + 2
DC volts
Range/resolution
6.000 V / 0.001 V
60.00 V / 0.01 V
600.00 V / 0.1 V
Accuracy
± ([% of reading] + [counts]): 0.5% + 2
AC millivolts1 True RMS
Range/resolution
600.0 mV / 0.1 mV
Accuracy
1.0% + 3 (DC, 45 Hz to 500 Hz)
2.0% + 3 (500 Hz to 1 kHz)
AC volts1 True RMS
Range/resolution
6.000 V / 0.001 V
60.00 V / 0.01 V
600.0 V / 0.1 V
Accuracy
1.0% + 3 (DC, 45 Hz to 500 Hz)
2.0% + 3 (500 Hz to 1 kHz)
Continuity
Range/resolution
600 Ω / 1 Ω
Accuracy
Beeper on < 20 Ω, off > 250 Ω detects opens or shorts of
500 μs or longer.
Ohms
Range/resolution
600.0 Ω / 0.1 Ω
6.000 kΩ / 0.001 kΩ
60.00 kΩ / 0.01 kΩ
600.0 kΩ / 0.1 kΩ
6.000 MΩ / 0.001 MΩ
Accuracy
0.9% + 1
Range/resolution
40.00 MΩ / 0.01 MΩ
Accuracy
5% + 2
Diode test
Range/resolution
2.00 V / 0.001 V
Accuracy
0.9% + 2
Capacitance
Range/resolution
1000 nF / 1 nF
10.00 μF / 0.01 μF
100.0 μF / 0.1 μF
9999 μF / 1 μF
100 μF to 1000 μF
Accuracy
1.9% + 2
Range/resolution
> 1000 μF
Accuracy
5% + 20%
Lo-Z capacitance
Range
1 nF to 500 μF
Accuracy
10% + 2 typical
AC amps True RMS
(45 Hz to 500Hz)
Range/resolution
6.000 A / 0.001 A
10.00 A / 0.01 A
Accuracy
1.5% + 3
20 A overload for 30-seconds max
DC amps
Range/resolution
6.000 A / 0.001 A
10.00 A / 0.01 A
Accuracy
1.0% + 3
20 A overload for 30-seconds max
Hz (V or A input)2
Range/resolution
99.99 Hz / 0.01 Hz
999.9 Hz / 0.01 Hz
9.999 kHz / 0.001 kHz
50 kHz / 0.01 kHz
Accuracy
0.1% + 2
1. All AC voltage ranges except Auto-V/LoZ are specified from 1% to 100% of range. Auto-V/LoZ is specified from 0.0 V.
2. Frequency is AC coupled, 5Hz to 30 kHz for AC voltage.
2. Temperature uncertainty (accuracy) does not include the error of the thermocouple probe.
2. Frequency is AC coupled, 5 Hz to 50 kHz for AC voltage. Frequency is DC coupled, 45 Hz to 5 kHz for AC current.
2. Temperature Range/Resolution: -40°F to 752°F / 0.2°F.
Mechanical & General Specifications
Size
167 x 84 x 46 mm (6.57 x 3.31 x 1.82 in)
Weight
550 g
Warranty
3 years
Fluke 115 True-RMS Digital Multimeter
Includes:
Holster
User manual
4 mm silicone test lead set
Installed 9V battery
Accessories: Fluke 115 True-RMS Digital Multimeter
Cases (3)
Fluke C50 Meter Case
Fluke C90 Soft Case for DMM and Visual IR Thermometers
Fluke CXT170 Extreme Case
Other (2)
Fluke TPAK ToolPak™ Magnetic Meter Hanger
Fluke MeterCleaner™ Wipes
Clips (2)
Fluke AC285 SureGrip™ Alligator Clips
Fluke AC87 Heavy Duty Bus Bar Clip Set
Lights (2)
Fluke LVD1A Non-Contact Voltage Tester with LED Flashlight
Fluke L206 Deluxe LED Hat Light
Probes (1)
Fluke 80PK-9 General Purpose Probe
Visual IR thermometers (1)
Fluke 80TK Thermocouple Module
Test leads (4)
Fluke TL220 SureGrip™ Industrial Test Lead Set
Fluke TL223 SureGrip™ Electrical Test Lead Set
Fluke TL71 Premium Test Lead Set
Fluke TL175 TwistGuard™ Test Leads
Related Products