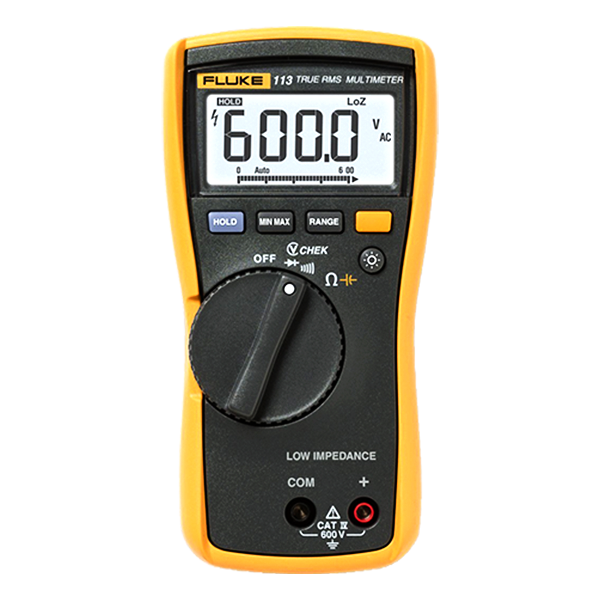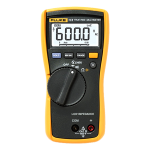 Model: Fluke 113 Digital Multimeter
Fluke 113 Digital Multimeter essentially a general-purpose, 'utility' multimeter. Fluke 113 Digital Multimeter is more than user-friendly for trainees, professionals and those that have a hands-on job.
Fluke 113 Multimeter Has Safety ratings: CAT-III to 600V, CAT-IV to 300V with Large backlit display. This brand new multimeter not only provides an accurate and reliable result but also the value of this meter always spot on.
We offer the best product through Tools Bangladesh the biggest e-commerce site in Bangladesh offer the best & affordable Digital multimeter for our customers. Keep it simple and get the best Fluke 113 digital multimeter from Tools Bangladesh.
Features
Fluke 113 Digital Multimeter
Key Features:
VCHEK™ LoZ low impedance measurement function to simultaneously test for voltage or continuity*
True RMS for accurate AC measurements on non-linear loads
A large backlit display allows for easy visibility in low-lit areas
The optional TPAK magnetic hanger allows the user hands-free flexibility
Meets Measurement Category CAT III 600 V and Category IV 300 V standards for a higher level of safety
Auto and Manual ranging for added user functionality
Record signal fluctuations using the Min/Max function
Diode test for testing general-purpose germanium, silicon, and power diodes
Integral holster with probe holders for easy storage
Specifications
Specification: Fluke 113 Digital Multimeter
Specifications
VCHEK1 2 3
Range
6.000 V / 60.00 V / 600.0 V
Resolution
0.001 V / 0.01 V/ 0.1 V
Accuracy
DC, 45 to 500 Hz: 2.0% + 3
500 Hz to 1 kHz: 4.0% + 3
Diode test4
Range
2.000 V
Resolution
0.001 V
Accuracy
2.0% + 3
Continuity4
Accuracy
Beeper on < 20 Ω, off > 250 Ω detects opens or shorts of 500 μs or longer
Ω4
Range
600.0 Ω / 6.000 kΩ / 60.00 kΩ
Resolution
0.1 Ω / 0.001 kΩ / 0.01 kΩ
Accuracy
0.9% + 2 / 0.9% + 1 / 0.9% + 1
Capacitance4
Range
1000 nF / 10.00 μF / 100.0 μF / 9999 μF
Resolution
1 nF / 0.01 μF / 0.1 μF / 1 μF
Accuracy
1.9% + 2
100 μF - 1000 μF: 1.9% + 2
1000 μF: 5% + 20
1. All VChek voltage ranges are specified from 60 counts to 100% of range. Because inputs below 60 counts are not specified, it is possible and normal for this and other true-rms meters to display non-zero readings when the test leads are disconnected from a circuit or are shorted together.
2. Crest factor of ≤ 3 at 4000 counts, decreasing linearly to 1.5 at full scale.
3. Minimum measureable input in VCHEK autorange is 3 VDC. For measurements below 3 VDC, push Range button twice to get to 6 VDC manual range.
4. After measuring voltage, a wait time of 1 minute is required to maintain accuracy of ohms, capacitance, diode test, and continuity.
Specifications
Maximum voltage between any terminal and earth ground
600 V
Display
3 3/4-digits, 6000 counts, updates 4/sec
Operating temperature
-10°C to 50°C (14°F to 122°F)
Storage temperature
-40°C to 60°C (-22°F to 140°F)
Temperature coefficient
0.1 x (specified accuracy) / °C (< 18°C or > 28°C)
Operating altitude
2,000 m
Storage altitude
10,000 m
Relative humidity
95% to 30°C
75% to 40°C
45% to 50°C
Battery type
9 Volt Alkaline, ANSI 1604A / IEC 6F22
Battery life
Alkaline: 300 hours typical, without backlight
Shock
1 Meter drop per IEC 61010–1–2001
Vibration
Per MIL-PRF-28800 for Class 2 instrument
Size (H x W x L)
167.1 x 85.1 x 46.0 mm (6.58 x 3.35 x 1.81 in)
Weight
13.0 oz (404 g)
Safety
Complies with ANSI / ISA 82.02.01 (61010–1) 2004, CAN / CSA-C22.2 No 61010-1-04, UL 61010–1 (2004) and IEC / EN 61010–1 2nd Edition for measurement Category IV, 600 V, Pollution Degree 2, EMC EN61326–1
EMI regulations
Complies with FCC Part 15, Class B
Specifications
VCHEK
Input impedance (nominal)
~3 kΩ < 300 pF
VCHEK
Common mode rejection ratio
(1 kΩ unbalanced)
> 60 dB at DC, 50 or 60 Hz
Ω
Open circuit test voltage
< 2.7 VDC
Full scale voltage
< 0.7 VDC
Diode test
Open circuit test voltage
2.7 VDC
Full scale voltage
2.000 VDC
Ω
Short circuit current
< 350 μA
Diode test
Short circuit current
< 1.0 mA
Includes
Fluke 113 Digital Multimeter
Includes:
Fluke TL75 test leads
Holster
9 V battery (installed)
and Users manual
Accessories
Accessories: Fluke 113 Digital Multimeter
Cases (1)
Other (1)
Fluke TPAK ToolPak™ Magnetic Meter Hanger
Test leads (2)
Fluke TL223 SureGrip™ Electrical Test Lead Set
Fluke TL175 TwistGuard™ Test Leads