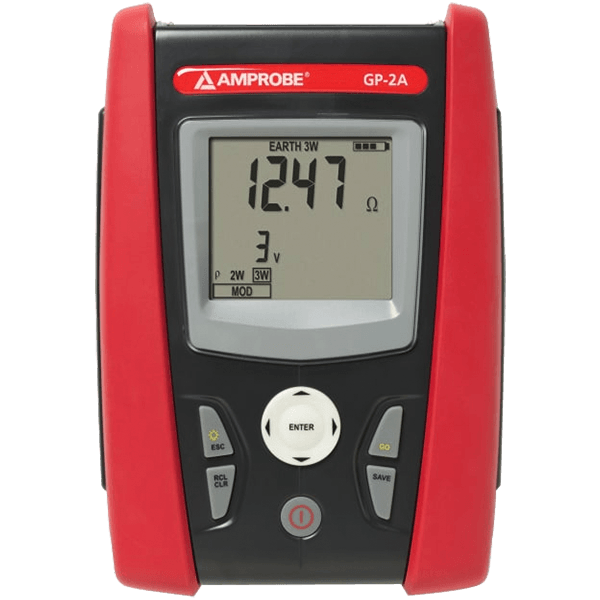 Amprobe GP-2A Ground Resistance Resistivity Tester is Automatically calculating resistivity – 4 point test that reliable and trusted.
Poor grounding is dangerous and contributes to unnecessary downtime and increases the risk of equipment failure.
The Amprobe GP-2A Earth Ground Resistance Tester provides accurate and honorable measurements for auditorium resistance and soil resistivity to assure safety and be in of an electrical system. The GP-2A is an unlimited later PC software that allows the fan to download necessary recorded measurements and to make professional reports for customers.
Electronic measurement tools available at Tools Bangladesh, We are delivering all over Bangladesh.
Features
Key Features: Amprobe GP-2A Ground Resistance Resistivity Tester
Measures earth ground resistance – 3 point (fall of potential) or 2 point tests
Automatically calculates resistivity – 4 point test
Automatic voltage measurement prevents false measurements
Automatically applies three testing frequencies for the most accurate readings
Test leads, auxiliary electrodes and software are included for complete instrument
Autoranging
999 internal memory locations to store measurements
RS-232 download to a personal computer
Specifications
Specifications: Amprobe GP-2A Ground Resistance Resistivity Tester
FEATURE
Range
Accuracy
Ground resistance
(2 and 3-wire method)
0.01 Ω – 19.99 Ω / 199.9 Ω / 1999 Ω
19.99 kΩ / 49.9 kΩ
±(2.5% rdg + 2 LSD)
Ground Resistivity (4-wire)
0.06 Ωm – 19.99 Ωm / 199.9 Ωm / 1999 Ωm
19.99 kΩm / 199.9 kΩm / 314 kΩm
±(2.5% rdg + 2 LSD)
Voltage Measurement
0 V – 460V
±(2.5% rdg + 2 LSD)
ADDITIONAL FUNCTIONS / FEATURES
Ranging
Auto
Noise Voltage Detection
Yes
Display Backlight
Yes
Data Storage
up to 999 readings
PC Connection
Yes
Auto Power Off
Yes
Low Battery Indication
Yes
ELECTRICAL SPECIFICATIONS
Resistance Measurement
Open circuit voltage ≤ 25 Vrms
Test current ≤12 mA
Measuring Frequency 77.5 Hz ± 1 Hz
Measuring Range
3- and 2-wire earth resistance measurement: 0.08 Ω – 49.9 kΩ
Earth resistivity (4-wire): 0.50 Ωm – 314 kΩm
Maximum Deviations
Influence factor
Deviation influence
E1 Position
0.3%
E2 Supply voltage
0.1%
E3 Temperature
0.1%
E4 Serial interference voltage
0.4%
E5 Probe and auxiliary probe resistance
0.9%
Electromagnetic Compatibility
Complies with IEC/EN 61326
GENERAL SPECIFICATIONS
Measuring Function
Earth ground resistance – 3 point (fall of potential) or 2 point tests
Earth resistivity – 4 point test
Noise voltage
Display
LCD with backlight, visible area 73 x 65 mm
Operating Altitude
≤ 2000 meters
Operating Temperature
0 °C to +40 °C (32 °F to 104 °F)
Storage Temperature
-10 °C to +60 °C (14 °F to 140 °F)
Humidity
(without condensation)
<80%
Power Supply
Six 1.5V batteries AA R6 MN1500 or six 1.2V AA R6 Ni-MH 2100mA rechargeable batteries
Battery Life
Approximately 500 tests
Auto Power Off
3 minutes
Overvoltage Category
CAT III 240V safety rated (phase to earth), maximum 415V between inputs
Safety
IEC/EN 61010-1, CAT III 240 V, pollution degree 2
IEC/EN 61010-031 for test lead accessories
IEC/EN 61557-1/-5
EMC
IEC/EN 61326
Size (H x W x L)
Approximately 235 x 165 x 75 mm (9.25 x 6.50 x 2.95 in)
Weight
Approximately 1 kg (2.2 lb) with batteries installed
Included Accessories
Four ground stakes, test lead set, alligator clip set, USB cable, USB driver software, carrying case and users manual
Warranty
One year
For more detailed specifications see instruction manual.
Includes
Includes: Amprobe GP-2A Ground Resistance Resistivity Tester
Measures Earth ground resistance – 3 point (fall of potential) or 2 point tests
Automatically calculates resistivity – 4 point test
Automatic voltage measurement prevents false measurements
Automatically applies three testing frequencies for the most accurate readings
Accessories
Accessories: Amprobe GP-2A Ground Resistance Resistivity Tester
Users manual,
batteries (installed),
connection cables,
4 ground stakes,
PC software,
USB cable and carrying case